Latest print technologies are helping to keep Isle of Man Newspapers at the heart of its communities, reports Gary Cullum
NEWSPAPER publishing on the Isle of Man is unique – there's no local daily, nor is there just a weekly to serve the 80,000 population.
In fact, the island successfully sustains three weekly titles that are published on three separate days of the week – Tuesday, Thursday and Friday – and all are published by the one business, Isle of Man Newspapers. It's a group at the heart of its community that can trace its roots to the launch of the Isle of Man Examiner in 1880 and a then-competing Courier publication some four years later.
The third title, the Manx Independent, came along 100 years later in 1987 and was born out of a dispute between the National Union of Journalists and the then owners of the Examiner group.
Isle of Man Newspapers acquired it in 1993. The two paid-fors sell around 8,500 copies each and have shown year-on-year increases for at least 20 weeks in the past 12 months while the free Courier delivers some 40,000 copies each week.
The team of 30 producing the newspapers and the Isle of Man Today website is hugely experienced. The senior executives and local directors being deputy chairman Trudi Williamson (pictured below) and sports editor John Watterson – both having completed 40 years' service – and editor Richard Butt, who began his career as a junior reporter with the company in 1989 and returned as editor in 2008 after working for the Manchester Evening News.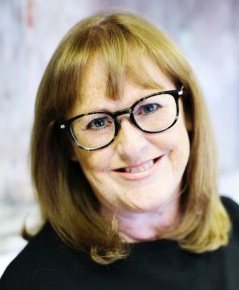 "It might sound a strange portfolio for one company on a modest sized island, but it works,"says Williamson, who started in the ad department as a 20-year-old, and was earlier this year made an MBE for services to the community in the Queen's Birthday Honours.
"We don't have a daily and we don't have weeklies in our view, but we have a newspaper, produced by the same staff three times a week and with three different mastheads. Our Isle of Man Today website is like a fourth title – the editorial team use it to break stories that we reverse into print and also include much of our printed content on the website.
"The website has 45,000 unique users a week and 1.3 million page impressions a month that will double during the TT festival. "So we enjoy a very good audience. The newsroom consider they have a far greater and younger audience than when we just had a printed offering," says Williamson.
Still staunchly independent, the newspapers were once owned by separate local businesses, and more latterly by the Halifax Courier, then became part of Johnston Press, in the mid 1990s when JP bought Halifax, before being acquired by veteran publisher Sir Ray Tindle in July last year.
"Johnston Press were good for us and we benefited from a number of shared group services, but we were delighted when Sir Ray, who we had known for a long time, came along," says Williamson. "We became part of a very different group of newspapers – a group where it's all about people, places and faces – local community titles that fit more with the ethos we operate on the Isle of Man."
In addition to its newspapers and website, IoM Newspapers runs charity golf days, the Pride of Man Awards that celebrate local people and local businesses along with the long-established Awards for Exellence, run in conjunction with the Isle of Man Government and local businesses. They are community-based awards recognising and rewarding business, charity, the public sector and enterprise.
"These awards are probably the highlight in the calendar on the Isle of Man these days and make a contribution to our revenues," says Williamson.
"The awards are a good way of making people proud to be Manx and to defend the independence and transparency of the island. The island comes together and the awards are also broadcast around the world and watched online by a further 10,000 people on the night."
But the big transformation for the print business came when the company closed its ageing and colour-restricted Goss Community press in 2012.
"We were printing on a Ford Fiesta at a time when we wanted a press that was more like a Ferrari," says Williamson.
"We had a group of very reliable ladies coming in to hand collate, but the business climate was becoming increasingly tougher and we needed a far better product than we could  produce ourselves. Quality colour printing was key to our future success.
"At first we printed at Sheffield Web at Dinnington but it wasn't ideal trying to get copies back overnight over the Pennines on a winter's night  so we went to Broughton Printers at Preston for a while.
"But we looked to see if we could get a perfect match for our needs and creative aspirations and we found that at Newsprinters at Knowsley and started printing there in 2015. It was a good decision.
"Then earlier this year, we met sales and marketing manager James Beardow and visited Knowsley to see what extra added value Ross McCombe and his team could bring to our business.
"We have a very traditional product but wanted to find something different; we wanted to pursue innovative and creative commercial ideas.
"It was so illuminating – they showed us translucent wraps and we have since used them to great commercial success. We have produced gatefolds and barn doors, we have published wraps smelling of coffee.
"Isle of Man Newspapers has sold advertisements of many different shapes and sizes, and has worked with Knowsley to produce some "fantastic" super panoramics.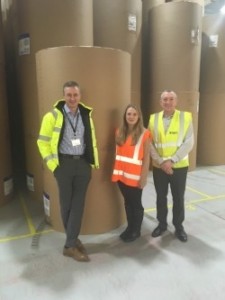 "When you stand a super panoramic on its end it is 5ft 6ins tall – the equivalent of six broadsheet pages. It's an excellent partnership and we have had great fun working with Ross and James who have been very supportive of our at times rather crazy ideas– and James commercially has had lots of exciting things to show us," says Williamson.
Emma Mann, who leads the innovation team at Isle of Man Newspapers, on a visit to Knowsley to watch super panoramic copies coming off the press with (left) Ross McCombe, senior operations Manager (Knowsley and Eurocentral) and operations manager Mark Clayton
We try to sell all the challenges that our customers have and try to support where appropriate.

Newsprinters sales and marketing manager James Beardow
"And the beauty of it is we have an equally talented team on the Isle of Man that can sell these ideas and make a super success of them.
"The quality,  service and support  we have received from Ross and his team has been excellent and, as a result, we have turned over tens of thousands of pounds this year on the back of innovation; indeed we are just about to do a Christmas campaign for a client that is a £40,000 series of barn doors campaign.
"Without Knowsley's know-how and execution, that's revenue we just could not even consider going after."
IoM's first major innovative initiative was a translucent wrap that protected the front page masthead but offered dominating promotional space was for an island-based IT company called Derivco that was seeking to recruit employees.
"We produced this during the TT festival when we have an influx of 50,000 people from the UK and around the world. We have a skills shortage on the island and really do need another 1,000 people working in high tech companies, and especially IT, so the timing was perfect. This was a way to try to get some of the alumni back on the island after gaining valuable experience elsewhere.
"We produced cracking artwork and Knowsley did a great  job of printing it. They are good to work with as they make it so easy for us to work remotely – not always an easy task – and we were able to tell them what we fancied doing.
"Newsprinters were very patient with us and remain patient. Ross himself is a smart operator and both he and James keep showing us new ideas all the time that I just know will be wonderful revenue generators.
"I met Newsprinters commercial director Tracey Hart early on as well and we have built an extremely strong relationship with them. They are a much valued business partner.
"It all works so well. We have deadlines three times a week. Pages are produced on our Atex system with ads via Miles Futureproof and Beacon. We ping our files across to Knowsley at around 6.30pm and the papers leave the plant in time for the overnight ferry to the Isle of Man and the 90-plus retail outlets via our wholesaler (that also handles the nationals live news editions) at six in the morning.
"We learnt much from our first supplement as a super panoramic – it was great, but was pretty hard to read so we have gone back to Knowsley and said it was good, it was talked about but actually we don't think it worked," says Williamson.
So the latest innovation being worked on by the two business partners is a 24-page broadsheet supplement being produced on heavier paper stock that will be folded and inserted into the paper.
"It's all about 'Destination Isle of Man', saying what an amazing place the island is to live and work in. We are also featuring people who have moved here.
"The supplement is being produced in collaboration with the IoM Post Office, which has agreed to post copies as part of the drive to bring skilled workers back to the island.
"We have a very loyal readership," says Williamson, explaining that around half of the island's 80,000 residents are Manx-born, while the rest have come from all around the world.
"These people see the benefit of living on the Isle of Man, a place that is beautiful, different, secure and transparent." The island supports a "very active" multi-media that includes local TV, local radio – BBC and three commercial radio stations – and successful printers. "So there is an awful lot going on."
Isle of Man Newspapers continues to retain readers in such a media-rich environment because of dedicated staff that work hard to work with – and for – the islanders, building a solid relationship built on trust, she says.
"What we have is working very well," says Williamson. "Not only that, but due to the new and creative thinking that's now deliverable in print, we are gaining back advertisers that have defected from print in recent years.
"With Newsprinters expanding as a business and constantly coming up with new and exciting innovative ideas, it's a win- win-win situation."
Sharing the wide span of printing innovation

"IT's a pleasure to work with such a customer who is growing and driving performance of their newspapers," says Newsprinters sales and marketing manager James Beardow (pictured left) of the successful relationship with Isle of Man Newspapers.

"We aim to offer our customers much more than just printing," he adds. "The commercial team aims to work proactively with our customers across a range of different services to help them be sustainable, to reduce unnecessary costs or to help them grow financially.

"Newsprinters offers a number of services where resources are shared with customers, for example retail allocation systems or helping customers to get more efficient routes to market.

"The commercial team at Newsprinters are all from publishing backgrounds and therefore know how challenging it can be to develop and increase advertising revenues in a challenging market," says Beardow.

Working with advertising and marketing teams to maximise their initiatives through using print innovation is an example of this.

"We work with our customers to share the wide span of printing innovation options we have to offer at Newsprinters by creating thought-provoking advertising and marketing concepts and hosting creative workshops. This, however, needs to be a partnership with our customers.

"Trudi and the dedicated, creative and proactive team at IoM Newspapers have embraced ideas, gone to market and developed new and captivating commercial campaigns that create 'standout' in their newspapers and excitement among their readers and advertisers alike."